TESTIMONIALS
John Demas - Freelance Musician & Educator
AS A FREELANCE MUSICIAN

Quinn Porter wedding: (Classical Guitar)


Ceremony Music

"We had John provide music for our ceremony on 10/1/11 and were extremely impressed. We never actually met with John before the ceremony so I was a bit nervous because we really went off of the vibe we would get from different vendors in order to make our decisions but he came very highly recommended from the Lange Farm. We were not disappointed. All of our guests loved the classical guitar and our song selections. I was not quite sure what I wanted played throughout the ceremony so I asked him lots of questions via email and he was always responsive. I told him he had free reign for the prelude music and that I needed some input for the processional and recessional and he helped me make some great decisions on the ceremony music."

"John is a pleasure to work with and completely affordable. He has great experience and plays a lot of weddings. I would definitely recommend him if you are thinking about a classical guitarist for your wedding!"

Kelly Karman wedding: (Classical & Jazz Guitar)


" John did a fantastic job at our March 7th wedding in St. Petersburg! We had him play during our reception. His prices were reasonable and he was very friendly and professional to work with. We didn't want the typical DJ reception and just wanted some nice music for our reception. He was wonderful! He even took requests from guests. I think having a live musician just adds a more personal, intimate touch. I think he would be great also for a ceremony or cocktail reception."

Dr. Richard Karman: (Classical Guitar)


"

Thank you so much for an outstanding performance. I truly appreciate all of your efforts and will highly recommend you."

Thanks again!!

Richard Karman

Marilyn Neyland: (Greek Wedding)

"John, the music for our daughter's wedding in November was perfect. The music selections were perfect for dancing and brought the guests up out of their chairs and on to the dance floor. Actually, your music is also great for dinner or cocktail hour. Each piece was the perfect length and not too long, which everyone enjoyed because there was such a variety of music to dance to and no one tired of the same song over and over. We were told my many of the guests that they had a fabulous time and the music was the best ever!!! I will certainly pass the word out about your new band with no hesitation. Again, thanks for a great evening and being a part of such an important event in our family. "

Sincerely,

Marilyn Neyland

Kevin Kramer Mix 100.7 Radio: (Greek and American Weddings)

"I have done many weddings with John Demas".
John is very professional and works very hard to make his clients dreams come true. As a professional DJ, I can tell you that his equipment is top of the line; he arrives early and make his clients very happy. I would be sure to hire him if he was available for my date. Call him; you will be very happy you did."

Kevin Kramer
Mix 100.7 Radio

Maria Zabetakis (Graduation Party)

"Thanks again for such a great night of music and
dance. Katee had an amazing time! "

Maria Zabetakis


Edith & John Mitchell (Greek Wedding)

"Thank you for your friendship and always making our
wedding joyous and musical."

Edith & John Mitchell

Rev. Fr. Stavros Akrotirianakis (Greek Festival)

"On behalf of our parish council, I would like to thank you for the wonderful job you did again providing live music at the Tampa Greek Festival.
You play wonderfully, you sing beautifully and you know how to engaged and encourage the crowd."

Rev. Fr. Stavros Akrotirianakis
St. John the Baptist Greek Orthodox Church
Tampa Florida _______________________________________________________________________________

AS AN EDUCATOR
"John Demas is a very detailed, honest and direct person. Thoughtful as well as considerate. He is detailed to the Nth degree and knows what he is teaching beyond belief! John is Demanding for a reason, he desires everyone he teaches really learns and understand what they have learned. John will help anyone who desires to learn and I personally have seen him go above and beyond to make sure the information given is understood. His playing skills are second to none on any instrument he picks up. John has the unique ability to communicate with anyone and get the information delivered. Is he tough, yes, is he detailed, yes, does he care about his students, more than any teacher I have ever known. John is a first class person and highest quality teacher who I would totally recommend to any institution for higher education. If you want the best there is, hire John Demas. You will be very GLAD you did so." February 8, 2012
Top qualities: Expert, High Integrity
Kent Sonenberg, Owner / Founder, Legends Guitars


"John is an outstanding musician, educator and author. His success as a musician has given him an unique perspective when training students. He sets high standards for himself and those who study with him, as seen in recital performances and his authored books. He manages diverse individuals with ease in his business dealings. John is dependable, knowledgeable and thorough. His commitment to excellence is apparent in every project he tackles. I recommend him without hesitation." January 17, 2012
Top qualities: Expert, Good Value, High Integrity
Shirley Manis

"I have hired John as a musician but I know him best as my teacher. John is always there on time, full of enthusiasm ready make music fun. We never get "bogged down". If something isn't working John will find another way. He is innovative. He always makes me feel like I'm making progress. He is very patient! John is professional and never fails to exceed expectations." February 21, 2012
Top qualities: Expert, High Integrity, Creative
George Seegers

"Mr. Demas provided me with personal Classical Guitar lessons from 1985 until 1993 on a weekly basis. His strongest assets are that he draws from his own expertise of the instrument to combine a teaching environment that allows one to learn quickly and proficiently. His dedication to musical teaching and innovative thinking were key to each sessions' success. I would highly recommend Mr. Demas for any level of musical training as well as for musical performances. He is a master of the Classical Guitar, Electric guitar, and Bouzouki." January 23, 2012
Top qualities: Great Results, Expert, High Integrity
David Hogge

"I highly recommend John Demas as both a guitarist and as a bouzouki player. John was one of our students at the University of South Florida during the 1980s, and he is an excellent musician who is very dedicated to our profession. With him, there will be nothing to fret about!" January 20, 2012
John Robison, Professor, University of South Florida

"I have known John for over 25 years and worked with him in the music industry for most of that time. John is a very well-educated musician in both classical guitar as well as Greek Bouzouki. John has authored instruction books and has taught extensively in institutions of higher learning. He is extremely talented and has a vast experience in live performance as well as in the recording studio. He is truly an accomplished musician." January 19, 2012
Sam Toney, Chief Medical Officer, Health Integrated

"I'm pleased to recommend John Demas as a first-class musician and guitar performer, an energetic and dedicated teacher and an individual with commendable integrity. Over the years we have shared studio space and I have always enjoyed watching John combine his high standards with an affable approach his work." January 19, 2012
Theodore DeCorso, Adjunct Professor, University of Tampa,

"My experience with John was primarily as his student when I took guitar lessons from him. John is an exceptional teacher as well as an incredible musician, instructional book writer and inventor. That was quite a few years ago. Over the years I have known several other guitarists who also studied with John, and through conversations with them, I can say we all agree he is one of the best music educators around. I have also enjoyed seeing him perform several times with his Greek band and as a solo artist. John is the consummate professional in all aspects. I hold him in the highest regard and could not recommend him more highly." January 16, 2012
Top qualities: Personable, Expert, High Integrity
Kendall Fudge

"As an individual John Demas is the most talented Guitarist I have ever had the privilege to hear play. When he is playing it is obvious that he enjoys playing just as much as we enjoy hearing him play.

At a University of Tampa recital I saw students with varied skill levels but all seemed to enjoy and were satisfied to have John as their personal director. At the end of the evening I could see why they were learning and were so glad to have John Demas as their instructor.

"John makes people enjoy music and he makes music for people to enjoy!"" January 16, 2012
Hal Yost, PGA - Life Member, AAU National Golf Chair

"John was my son's guitar teacher for about three years. My son Joey greatly enjoyed the lessons with Mr. Demas and really improved and learned a lot. He especially excelled in the acoustic guitar and learned to love it where prior to the lessons with John, he only enjoyed the electric guitar. We received the recommendation from my mom Nina Isidora who is a great concert pianist and instructor, John is a collegue of hers, and my mom would never recommend anyone unless they were the best." January 16, 2012
Top qualities: Great Results, Personable, Expert
Dorit Stone

"I've known John Demas for 30 years. John is an extraordinarily talented musician and he plays a variety of musical instruments with a high level of expertise and class. John is an excellent teacher and routinely works with students at many different levels, and produces excellent results with all of them. I've personally benefited from John's expertise as a teacher, and his ability to share knowledge about music in the books and articles he has written. John is also a successful entrepreneur and performer, he's the total package and I highly recommend him to you.

Bob Stearns
CEO, Powerful Potential" January 16, 2012Bob Stearns, CEO, Powerful Potential (formerly Enlightened Leadership)

"I've had the pleasure of working with John Demas for several years as he instructed me through my degree in Music. As a professor, he went out of the normal protocol to ensure that I was consistently challenged. His ability to communicate very abstract concepts in musical interpretation is a core skill of his, as well as his focus on very precise technique.

As a performer he readily handles any piece of music I've laid before him as well as his solo career and ensemble work across many genres and styles. To say he's a high-caliber performer would be something of an understatement.

Since I worked most closely with him as a student I can say that the single greatest thing about him was his confidence in me and the closeness with which we pursued my education together - rather than being dictated a series of lessons. I can't thank him enough for all the effort he puts into his students." January 15, 2012
David Granruth, Student, University of Tampa

"John Demas is a great guitar instructor at my university. Even though I did not have any musical background, I was able to learn the basics of playing a new instrument. He is a very knowledgeable and helpful professor. I highly recommend him!" January 15, 2012
Top qualities: Personable, Expert, Creative
Casey Foster hired John as a Guitar Instructor in 2011

"John is a superb musician who is successful as a versatile performer and effective and inspiring as a teacher of all ages and many styles of music.His drive and creativity have led him to publish guitar teaching materials. He is personable and works well with people throughout his professional endeavors. John displays his talent in many areas of music and his professionalism in all arenas." January 15, 2012
Top qualities: Expert, On Time, High Integrity
Diane Diane R

hired John as a Musician, performer and teacher in 1984, and hired John more than once
"John's a top-notch professional, an artist, a loyal friend, and a great person in general." January 15, 2012
Chris Galvan, Composer, Galvan Music

worked with John at John Demas - Classical Guitarist - Greek Bouzouki (The Omega Project) - Tampa Bay
"We hired John to teach guitar to my son. He is a very dedicated individual to his work and is highly motivating and works well with others. I could see him working in several situations whether it's individually or in a group-type setting. He is disciplined and personable." January 15, 2012
Gail Rineer, Nurse Specialist for Medical Coding/Auditing, Parses, Inc.

"I studied guitar with John Demas on and off for 5 years. I was able to progress quicker because of his augmentations of theory to my own self taught playing style. I've recommended several instruction seeking parents to Mr. Demas for one and one lessons. I've heard nothing but adoration as feedback for his lesson teaching style and mentorship; which is very demanding and fast paced. Only devoted students "need apply."" January 15, 2012
Top qualities: Expert, Good Value, On Time
Beth Brookfield




Tommy Becker says

"John is an exceptional teacher, musician, and performer. Any aspiring guitarist can greatly benefit from the knowledge and insights that John has to offer. Without a doupt John Demas is the best guitar teacher in the Tampa Bay area".

Jason Rodriguez says

"I have been studying with John Demas for two years. Prior to studying music I earned a BA in English Education and the University of Central Florida. As a result of my studying various educational methods and approaches to teaching and based on my experience as both a public school and college English teacher, I clearly recognized Mr. Demas' expertise and over all passion for teaching. His approach to teaching embodies an unparalleled balance of knowledge, experience, creativity, innovation, versatility and insight".

"Even as an advanced student of Mr. Demas, I am continually astonished by his ability to prompt me, as well as other students, to discover revelations regarding several facets of guitar musicianship, such as technique, mental approaches to the instrument, dynamic, control, interpretation, sight reading, performance, and methods for productive practicing. Because of Mr. Demas' perceptive insights and instructional proficiency, I have been able to progress in a fundamentally sound and efficient manner, which has lead me to an inspiration to continue progress. In addition, as a result of my studying under John Demas, I have developed a proficiency regarding my performance with other musicians; I have observed the same improvement and growth from my classmates, Mr. Demas' other students. John's ability to work with students of various ability levels and experience benefits all of his students, weather in the context of an ensemble or solo performance".

"Mr. Demas is a teacher that I would recommend to any aspiring guitarist or music student, His solid background in music theory and his ability to approach music concepts from multiple perspectives benefits all whom he assists".
Vast musical experience and knowledge reflects John's ability to accommodate any type of engagement.
JOHN G. DEMAS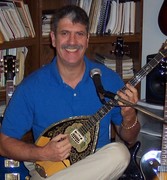 CONTACT INFORMATION
JOHN G. DEMAS
PO BOX 2211
LUTZ FL 33548
813 240 5199
E Mail
Visit Me On MySpace